Tools
Bandsaw
A bandsaw is a power saw with a long, sharp blade consisting of a continuous band of toothed metal stretched between two or more wheels to cut material. They are used principally in woodworking, metalworking, and lumbering, but may cut a variety of materials. Advantages include uniform cutting action as a result of an evenly distributed tooth load, and the ability to cut irregular or curved shapes like a jigsaw. The minimum radius of a curve is determined by the width of the band and its kerf.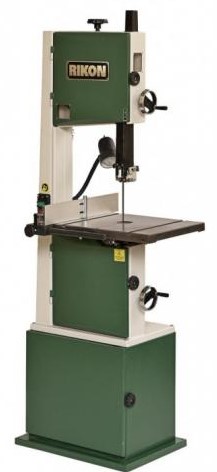 RIKON 10-325
Specifications
13" resaw capacity — Largest resaw capacity for slicing veneers, bookmatched projects, and lumber sizing
Quick-release blade tension: Quickly release the blade tension when changing blades or when the machine is off, increasing blade life
2 speeds: 1,445/2,950 ft/min. Allows safe cutting of non-ferrous materials
Hinged blade guard w/ sight window. Easy access for blade changes and workpiece visibility
14-amp, 1-1/2 hp, 110-volt motor
Table size: 16" x 21-1/2"
Blade size: 111" length, 1/8"–3/4" width
Manual
RIKON 10-325 14" Deluxe Woodworking Bandsaw
Status
Fully Operational
Specifications
14" Maximum cut width
Blade size: 105" length, 1/8"–3/4" width
Manual
Status
Fully Operational
Belt Sander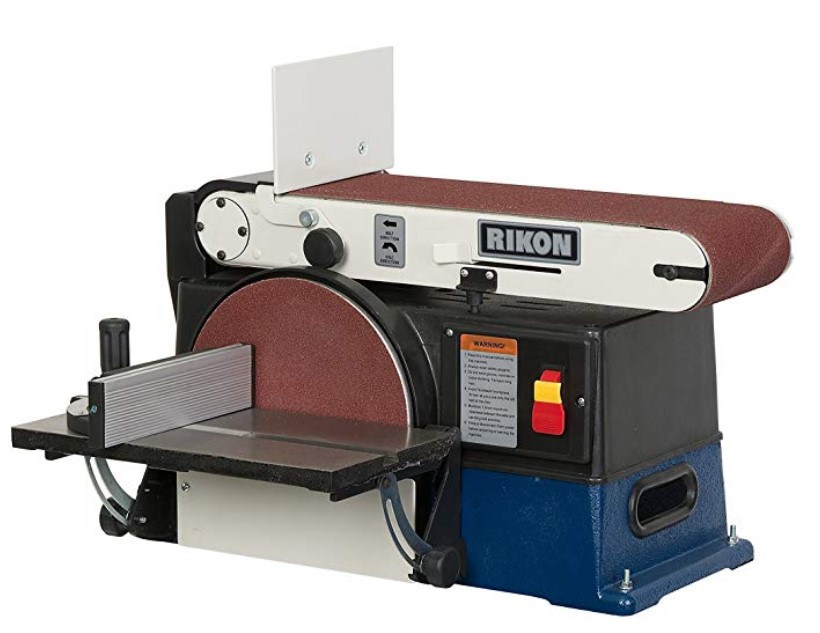 A belt sander or strip sander is a sander used in shaping and finishing wood and other materials. It consists of an electric motor that turns a pair of drums on which a continuous loop of sandpaper is mounted. Stationary belt sanders are often combined with a disc sander.
Belt sanders can have a very aggressive action on wood and are normally used only for the beginning stages of the sanding process, or used to rapidly remove material. Sometimes they are also used for removing paints or finishes from wood. Fitted with fine grit sand paper, a belt sander can be used to achieve a completely smooth surface.
RIKON 50-122
Specifications
Cast Iron & Steel Construction
Belt Size 6″ x 48″
Belt Tilts 0 – 90°
10″ Disc Diameter
Manual
6" x 48" Belt & 10" Disc Sander with Stand
Status
Fully Operational
Drill Press
Drum Sander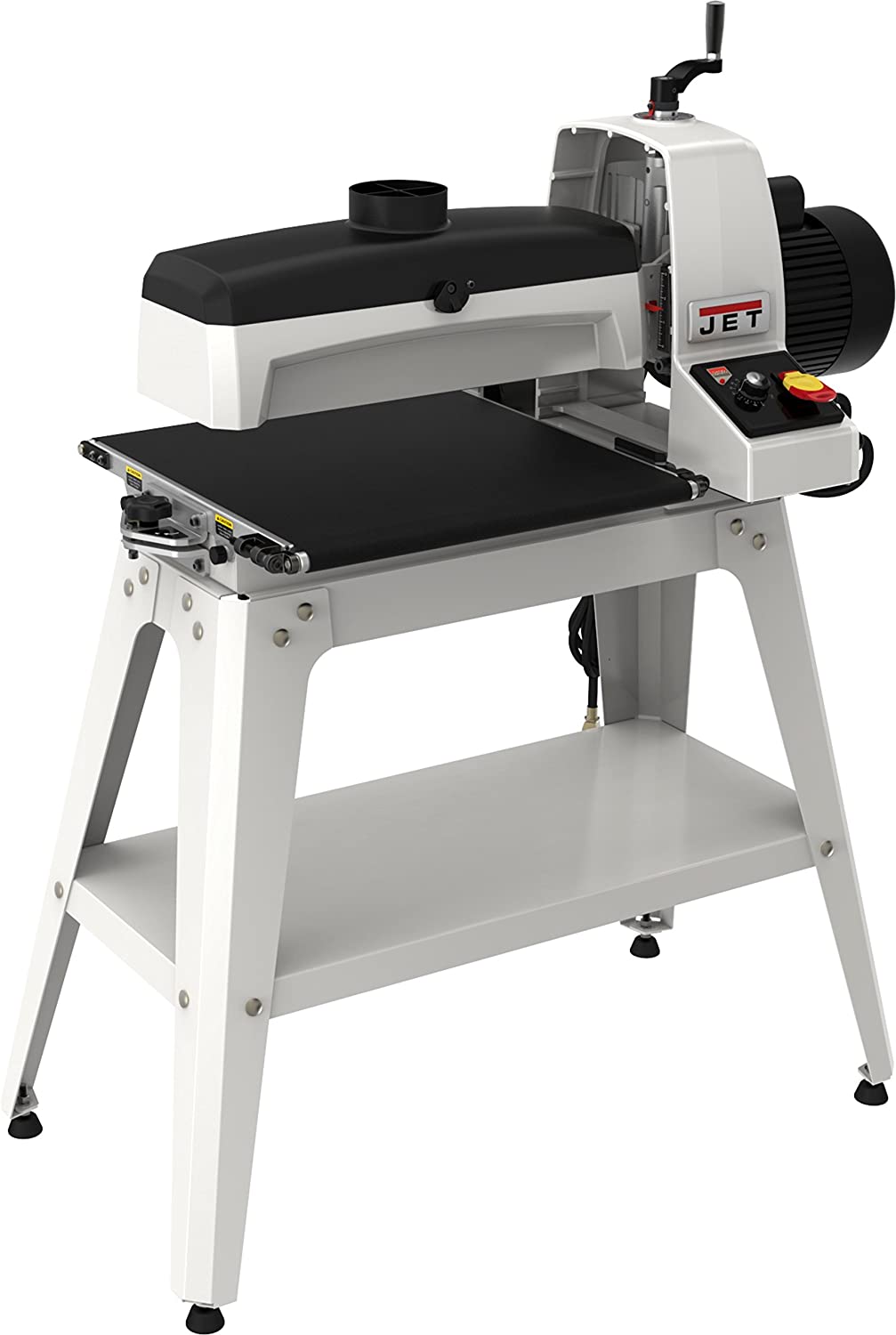 A large sander that uses a rotating sanding drum. As with a planer, the operator adjusts feed rollers to feed the wood into the machine. The sander smooths it and sends it out the other side. Good for finishing large surfaces.
Jet JWDS-1632
Specifications
Drum Length 16"
Drum Speed 1,720 RPM
Drum Diameter 5"
Drum Bearing Diameter 1"
Conveyor Motor 43 in.-lbs. torque, direct drive, dc
Conveyor Speed 0 - 10 ft/min
Maximum Board Thickness 3"
Maximum Board Width 32" (two passes)
Minimum Board Length 2-3/8"
Minimum Board Thickness 1/32"
Manual
Drum Sander
Status
Fully Operational
Jointer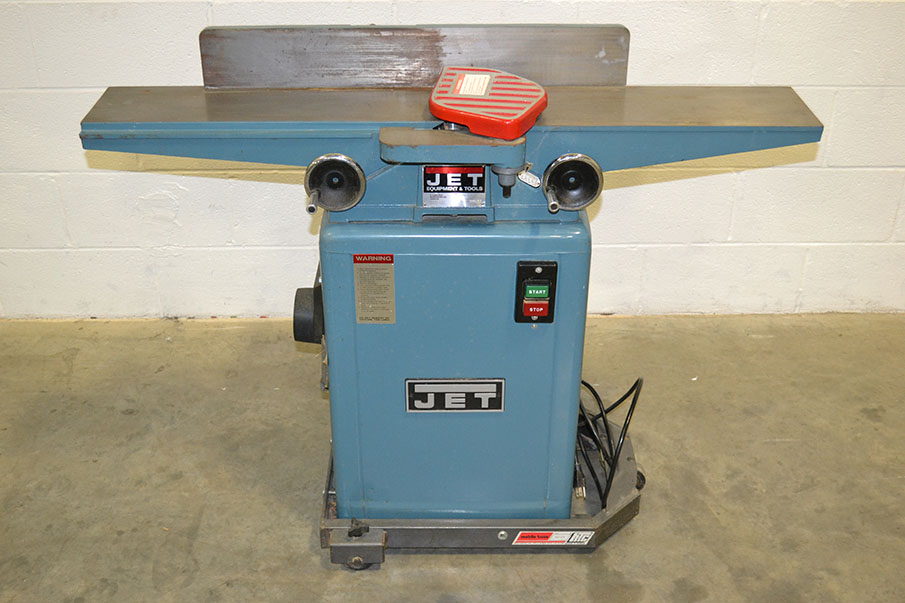 A jointer is a woodworking machine used to produce a flat surface along a board's length. As a jointer, the machine operates on the narrow edge of boards, preparing them for use as butt joint or gluing into panels. A jointer setup has the width that enables smoothing ('surface planing') and leveling the faces (widths) of boards small enough to fit the tables.
The jointer derives its name from its primary function of producing flat edges on boards prior to joining them edge-to-edge to produce wider boards.
Status
Fully Operational
Lathe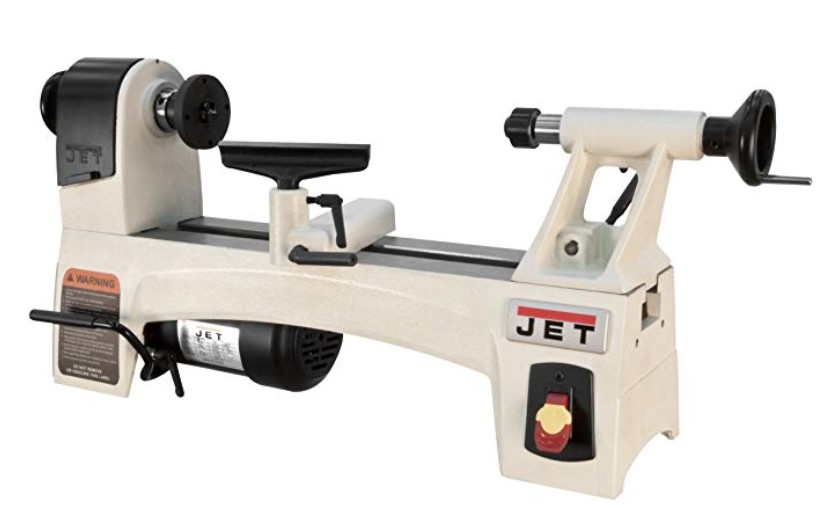 A lathe is a machine tool that rotates a workpiece about an axis of rotation to perform various operations such as cutting, sanding, knurling, drilling, deformation, facing, and turning, with tools that are applied to the workpiece to create an object with symmetry about that axis.
Specifications
Swing Over Bed 10"
Swing Over Tool Rest Base 7-5/16"
Distance Between Centers 15-1/2"
Spindle Bore 3/8"
Spindle Taper MT2
Quill Taper MT2
Quill Travel 2"
Spindle Thread 1"/8 TPI
Spindle Speeds 500/840/1240/1800/2630/3975 RPM
Number of Indexing Positions 24
Bed Construction Cast Iron
Motor Power 1/2 HP
Planer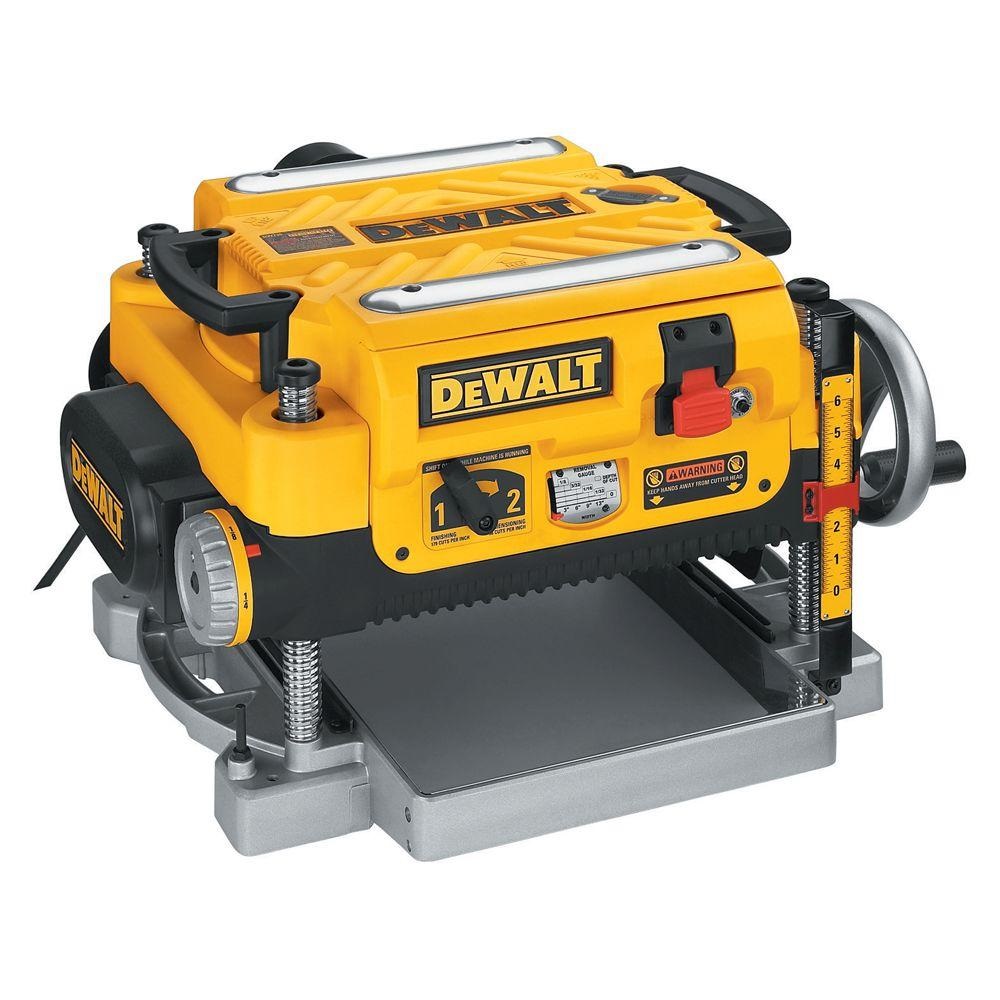 A planer is a woodworking machine to trim boards to a consistent thickness throughout their length and flat on both surfaces.
It is different from a jointer, where the cutter head is set into the bed surface. A surface planer has slight advantages for producing the first flat surface and may be able to do so in a single pass. However the thicknesser has more important advantages in that it can produce a board with a consistent thickness, avoids producing a tapered board, and by making passes on each side and turning the board, may also be used for the initial preparation of an unplaned board.
Dewalt DW735
Specifications
WIDTH CAPACITY 13 IN
MAX DEPTH OF CUT 1/8"
AMPS 15.0 AMPS
NO LOAD SPEED 20,000 (MOTOR)/10,000 (CUTTERHEAD) RPM
PLANER TYPE STATIONARY
POWER TOOL TYPE CORDED TOOL
WEIGHT 92 LBS
Manual
13" (325 mm) Heavy-Duty Portable Thickness Planer
Status
Fully Operational
Repair Log
Router and Router Table
Tablesaw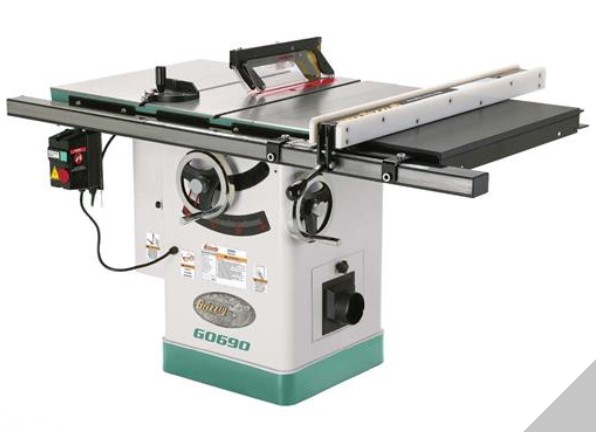 A table saw is a woodworking tool, consisting of a circular saw blade, mounted on an arbor, that is driven by an electric motor (either directly, by belt, or by gears). The blade protrudes through the top of a table, which provides support for the material, usually wood, being cut.

In most modern table saws, the depth of the cut is varied by moving the blade up and down: the higher the blade protrudes above the table, the deeper the cut that is made in the material. In some early table saws, the blade and arbor were fixed, and the table was moved up and down to expose more or less of the blade. The angle of cut is controlled by adjusting the angle of blade.

Grizzly G0690

Specifications
Motor: 3 HP, 220V, single-phase, 12.8A
Rip capacity: 29-1/2" right, 12" left of blade
Max. depth of cut @ 90°: 3-1/8"
Max. depth of cut @ 45°: 2-3/16"
Table size with extension: 40" W x 27" D
Distance from front of table to center of blade: 17-1/4"
Floor-to-table height: 34"
Arbor diameter: 5/8"
Arbor speed: 4300 RPM
Max. width of dado: 13/16"
Manual
10" CABINET TABLE SAW w/RIVING KNIFE
Status Fully Operational
Handtools
Dust Collection System
Links to 3 different presenters for Beginner Woodworking Tutorials:
Woodworkers Web -Colin Knecht – Woodworking for beginners https://www.youtube.com/playlist?list=PLgn5pIkLhZC5viCgcTEqckIaTutUT7_YK
Steve Ramsey - Woodworking for Mere Mortals https://www.youtube.com/user/stevinmarin
How to Do Woodworking w/ Robyn Mierzwa https://www.youtube.com/watch?v=yzdDED6GEEI&list=PLL9ILc-2pcSB7Y_L-8mKd4IWTFkEPEk-K&index=1 Other woodworking video tutorials ———————————
5 Woodworking Cuts You Need - https://www.youtube.com/watch?v=PkTbn-mOhfI&t=140s
Power Drill - https://www.youtube.com/watch?v=Pos82YzsYKQ
How to Setup and Use the Drill Press - https://www.youtube.com/watch?v=yYenTisnkwY
How to use the Drill Press - https://www.youtube.com/watch?v=dMgKPWY6vXU
Basics: Drill Press - https://www.youtube.com/watch?v=He9_NGtaljE
5 Woodworking Cuts You Need to Know How to Make - https://www.youtube.com/watch?v=PkTbn-mOhfI&t=80s
Table Saw Basics - https://www.youtube.com/watch?v=91v0Yg1L4ok
Table Saw Blade Guard - https://www.youtube.com/watch?v=tigNb2TD4-s
Table Saw Basics - https://www.youtube.com/watch?v=91v0Yg1L4ok&t=60s
Band Saw Tutorial - https://www.youtube.com/watch?v=QREUYSeVG9g
How to Use a Band Saw - https://www.youtube.com/watch?v=Svom3LqJtqY
Band Saw Basic Setup - https://www.youtube.com/watch?v=cQqq3rAZ4PI
What Can You Do With a Jigsaw? - https://www.youtube.com/watch?v=jWneDzqAbH8
Router 101 - https://www.youtube.com/watch?v=8Vl8Jbw3cSk
How to Use a Surface Planer - https://www.youtube.com/watch?v=vxyQJCMLCsI
What Does a Jointer Do? - https://www.youtube.com/watch?v=3bbHwoi4kz8
How to Turn Your Planer Into a Jointer - https://www.youtube.com/watch?v=rpq-Cb-UesM
Intro to Woodturning - https://www.youtube.com/watch?v=e0iACey0mcQ
SANDING BASICS - https://www.youtube.com/watch?v=mKairfMzc6Q
Dust Collection - https://www.youtube.com/watch?v=3ni1Pf-wwo0
How to Learn Woodworking
How to Do Woodworking - https://www.youtube.com/watch?v=yzdDED6GEEI&list=PLL9ILc-2pcSB7Y_L-8mKd4IWTFkEPEk-K
How to Practice Woodworking Safely - https://www.youtube.com/watch?v=E61fJsXTgmw&list=PLL9ILc-2pcSB7Y_L-8mKd4IWTFkEPEk-K&index=2
Basic Woodworking Machinery - https://www.youtube.com/watch?v=v2ixRV9VBkU&list=PLL9ILc-2pcSB7Y_L-8mKd4IWTFkEPEk-K&index=22
How to Use a Table Saw - https://www.youtube.com/watch?v=F8kUMwluwMk&index=14&list=PLL9ILc-2pcSB7Y_L-8mKd4IWTFkEPEk-K
How to Use a Router Table - https://www.youtube.com/watch?v=bdZac0EbD9k&index=17&list=PLL9ILc-2pcSB7Y_L-8mKd4IWTFkEPEk-K
How to Use a Router - https://www.youtube.com/watch?v=JbTl0IbO55c&list=PLL9ILc-2pcSB7Y_L-8mKd4IWTFkEPEk-K&index=18
How to Use a Circular Saw - https://www.youtube.com/watch?v=s74iSw3naWU&list=PLL9ILc-2pcSB7Y_L-8mKd4IWTFkEPEk-K&index=20
How to Use a Jigsaw - https://www.youtube.com/watch?v=WUyL92r20UA&index=21&list=PLL9ILc-2pcSB7Y_L-8mKd4IWTFkEPEk-K
Joinery Basics - https://www.youtube.com/watch?v=HYPD7F8nUKY&index=8&list=PLL9ILc-2pcSB7Y_L-8mKd4IWTFkEPEk-K
How to Use a Jointer - https://www.youtube.com/watch?v=q6Fcpz4du20&index=12&list=PLL9ILc-2pcSB7Y_L-8mKd4IWTFkEPEk-K
How to Use a Biscuit Joiner - https://www.youtube.com/watch?v=Cnm15Cigz_w&list=PLL9ILc-2pcSB7Y_L-8mKd4IWTFkEPEk-K&index=15
How to Square Lumber with a Jointer - https://www.youtube.com/watch?v=KcXz4imU-1A&list=PLL9ILc-2pcSB7Y_L-8mKd4IWTFkEPEk-K&index=10
Square Lumber with Planer & Table Saw - https://www.youtube.com/watch?v=NAdLC19r7MU&list=PLL9ILc-2pcSB7Y_L-8mKd4IWTFkEPEk-K&index=9
edge joining lumber - https://www.youtube.com/watch?v=9rgfrHyJ6i0
Know About Glue - https://www.youtube.com/watch?v=Esvb64fUQ10
What Kind of Wood Should You Build With? - https://www.youtube.com/watch?v=y7gLvEYoBu0
What kind of screw should I use? - https://www.youtube.com/watch?v=1GiYrFyNVUU
What Kind of Finish Should You Use? - https://www.youtube.com/watch?v=bbiXJd_1l8Y
How to Make a Keyed Miter Joint - https://www.youtube.com/watch?v=6n1EZl92RIU&list=PLL9ILc-2pcSB7Y_L-8mKd4IWTFkEPEk-K&index=3
How to Make a Half-Lap Joint - https://www.youtube.com/watch?v=fac6nSMrqsg&index=4&list=PLL9ILc-2pcSB7Y_L-8mKd4IWTFkEPEk-K
Cut & Chisel a Mortise & Tenon Joint - https://www.youtube.com/watch?v=LtZH26qUs_k&list=PLL9ILc-2pcSB7Y_L-8mKd4IWTFkEPEk-K&index=5
How to Make a Box Joint - https://www.youtube.com/watch?v=WSyCWk60ucg&list=PLL9ILc-2pcSB7Y_L-8mKd4IWTFkEPEk-K&index=7
pocket hole joinery - https://www.youtube.com/watch?v=mvO6zaIUO18
How to Use a Jointer - https://www.youtube.com/watch?v=q6Fcpz4du20&index=12&list=PLL9ILc-2pcSB7Y_L-8mKd4IWTFkEPEk-K
How to Square Lumber with a Jointer - https://www.youtube.com/watch?v=KcXz4imU-1A&list=PLL9ILc-2pcSB7Y_L-8mKd4IWTFkEPEk-K&index=10
Square Lumber with Planer & Table Saw - https://www.youtube.com/watch?v=NAdLC19r7MU&list=PLL9ILc-2pcSB7Y_L-8mKd4IWTFkEPEk-K&index=9
Jay Bates Woodworking Videos — Play lists - https://www.youtube.com/user/Jayscustomcreations/playlists
Tool Talk #6: Pocket Hole Jigs - https://www.youtube.com/watch?v=K68YYKunxmo
5 Ways to Print on Wood - https://www.youtube.com/watch?v=xHOWUR8vTvo
projects =
1 - Candy Plinko! - https://www.youtube.com/watch?v=CDAbVpCc4dk
2 -  Gift Card Holder - https://www.youtube.com/watch?v=Rbdz9pjd1Wk

3 - Picture Frames - https://www.youtube.com/watch?v=cNZgr1epRec

4 - Christmas Ornament Holder - https://www.youtube.com/watch?v=s6PzatU7FCw

5 - wooden snowflakes - https://www.youtube.com/watch?v=WW5r4gVrtZQ

6 - Simple Shop Stool - https://www.youtube.com/watch?v=7w3DGnX94zk

7 -  Contemporary Dining Table - https://www.youtube.com/watch?v=NU9yOQbhA-Q

8 - king sized bed frame - https://www.youtube.com/watch?v=8NPAjqQ4GvE

9 - Making a picture frame(NR) - https://www.youtube.com/watch?v=wnEkWsHxdQI
10 - side table - https://www.youtube.com/watch?v=JbcVAYZjT84&list=PL2Y7G15DrVt4GHu2bTsf-PkBaXr3O6cWP
11 - Fun Chairs for Kids - https://www.youtube.com/watch?v=LRTNM0G8UY0&list=PL2Y7G15DrVt4GHu2bTsf-PkBaXr3O6cWP&index=4

12 - Build This Bed - https://www.youtube.com/watch?v=ciSmliVhVZA&list=PL2Y7G15DrVt4GHu2bTsf-PkBaXr3O6cWP&index=5
Make a wood chain using a router - https://www.youtube.com/watch?v=1pHCfXtRYCA
Mystery Cube-in-a-Cube Puzzle - https://www.youtube.com/watch?v=TfV_APBk16Q
Mystery Cube-in-a-Cube Puzzle - https://www.youtube.com/watch?v=TfV_APBk16Q
Make a wood mallet - https://www.youtube.com/watch?v=JcaV5jWpR1k
Cabinet Making for Beginners - https://www.youtube.com/watch?v=SaufHnm7ELA&index=8&list=PL2Y7G15DrVt4GHu2bTsf-PkBaXr3O6cWP
classic wooden bar stool - https://www.youtube.com/watch?v=KHOtVjlO27E&list=PL2Y7G15DrVt4GHu2bTsf-PkBaXr3O6cWP&index=11
five-board bench seat - https://www.youtube.com/watch?v=QdsFjkQwhYE&index=12&list=PL2Y7G15DrVt4GHu2bTsf-PkBaXr3O6cWP
Sofa snack table - https://www.youtube.com/watch?v=Q4HxGlrJnqo&index=14&list=PL2Y7G15DrVt4GHu2bTsf-PkBaXr3O6cWP
Make a bookcase - https://www.youtube.com/watch?v=H77DWqHCOcE&list=PL2Y7G15DrVt4GHu2bTsf-PkBaXr3O6cWP&index=17
wood floor lamp - https://www.youtube.com/watch?v=7nz56RJ8slc&list=PL2Y7G15DrVt4GHu2bTsf-PkBaXr3O6cWP&index=18
Contemporary Dining Table - https://www.youtube.com/watch?v=NU9yOQbhA-Q