At present, the only usable machine tool in the metal shop is the small Grizzly mill. The K&T mill got partially dismantled for an upgrade and then the project was apparently abandoned. The 12x36 lathe has also been dismantled to repair the apron, no estimate provided on repair time. The 9x20 lathe is inaccessible.
The machinery line-up for the metal shop is:
Enco 12x36 lathe
Enco 9x20 lathe
Central Machinery 7x10 lathe
K&T 2H mill
Grizzly G0758Z mill
Dedicated cold work bench (iron worker, bench vise, ring roller, brakes)
General purpose work bench
Welding, cut-off, and grinding area
Lathe: Enco 9x20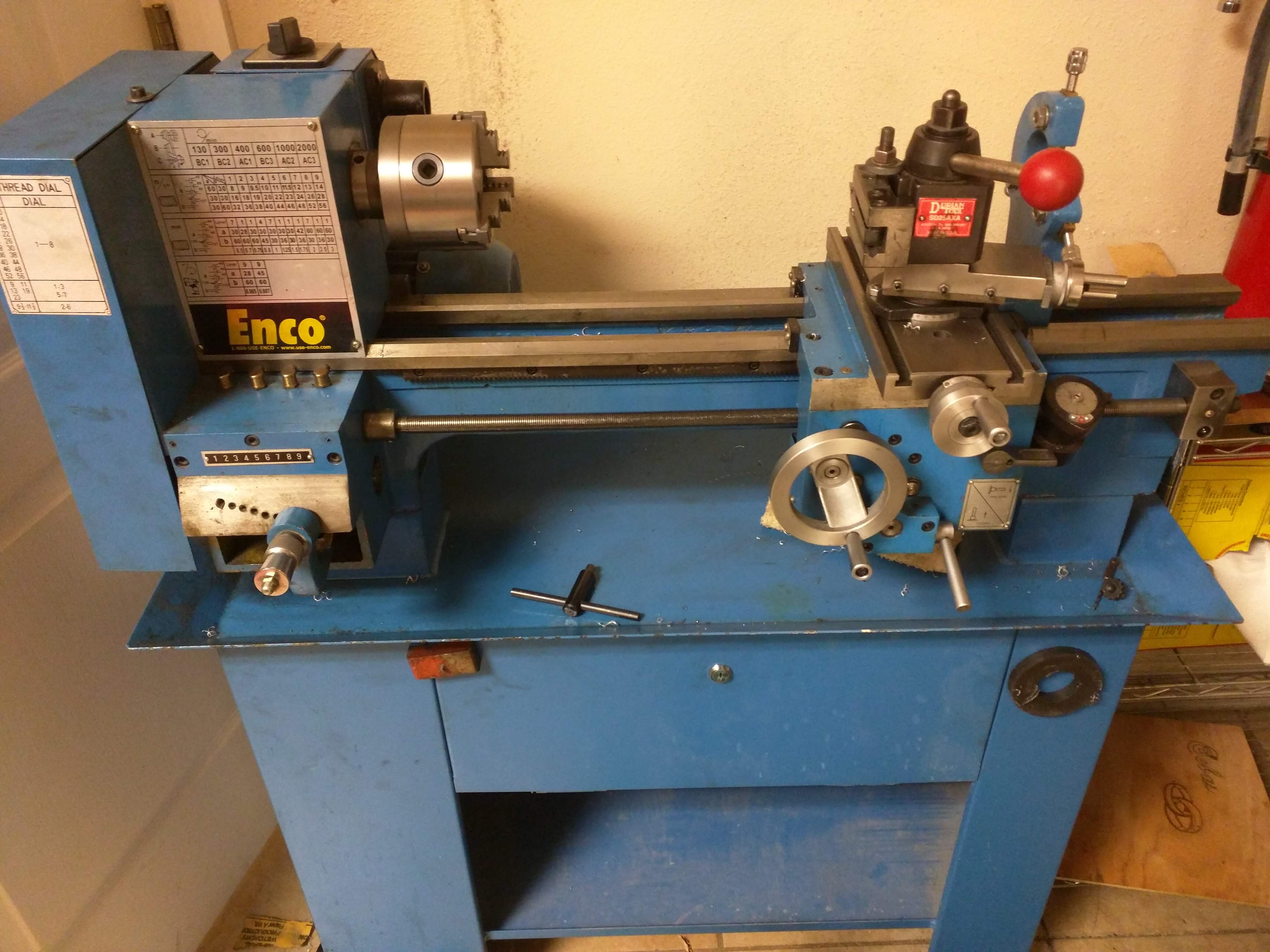 This is one of the fairly ubiquitous import 9x20 lathes. There's plenty of documentation on the internet example. We have a reasonably complete set of tooling, including:
4" 3-jaw self-centering chuck, with inside and outside jaws (!)
8" 4-jaw independent chuck
7.5" faceplate
Steady rest
Follower rest
4-way toolpost
Dorian AXA quick-change toolpost
Tailstock chuck
Live and dead centers
The 9x20 is a fairly competent small lathe. It's got a half of a quick change gear box–there are 9 QC settings, but to get the full range of 27 English and 18 Metric threads, as well as two power feed speeds, takes some manual gear swaps. It cannot do left-hand threads, and there's no backgear or power cross-feed (common features on some larger lathes). The lathe is in very good shape, except that the tailstock handwheel has been previously broken and imperfectly repaired, so the tailstock travel isn't graduated, nor is there as much travel as there should be.
A good reference for the 9x20 lathes is Colin Feaver's Introduction to 9x20 Lathe Operations.
Note that the motor on this lathe is not original (the original motor failed in the spring of 2021.) Because the original motor had a funky, not-quite standard set of dimensions, mounting the new motor shifted the pulley positions and the original tensioner that let us use the same belt for two different speed ranges no longer works, and you have to change belts between the high and low speed ranges. Finding a new mounting geometry to restore the single-belt tensioning arrangement is on the round tuit list, but not very high priority at the moment.
Wishlist:
5/16" tool bits, HSS
5/16" inserted carbide tool bits (CCMT or TCMT)
AXA QC toolholders (we have a mongrel collection of QC toolholders, most of them seem to be BXA for the Smithy)
Lathe dog
Lathe: Enco 12x36
This lathe is under repair (the drive worm in the carriage got stripped.)
Lathe: Central Machinery 7x10
I'm building a dedicated stand for this, to live in the new space. We also have a limited set of tooling for this machine.
Mill: Kearney & Trecker 2H with vertical head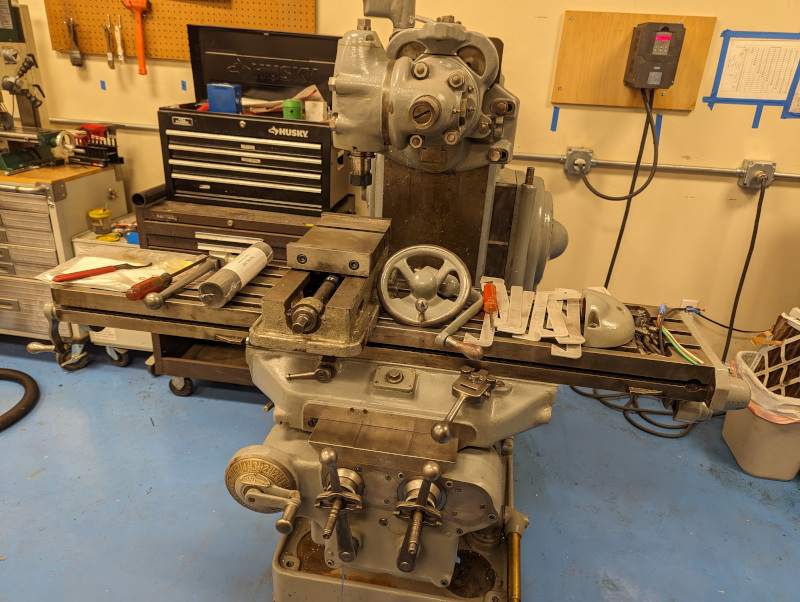 A member has partially dismantled this mill for an upgrade (oil seals and wipers) and abandoned the project. No word on when it might be back in action.
Mill: Grizzly G0758Z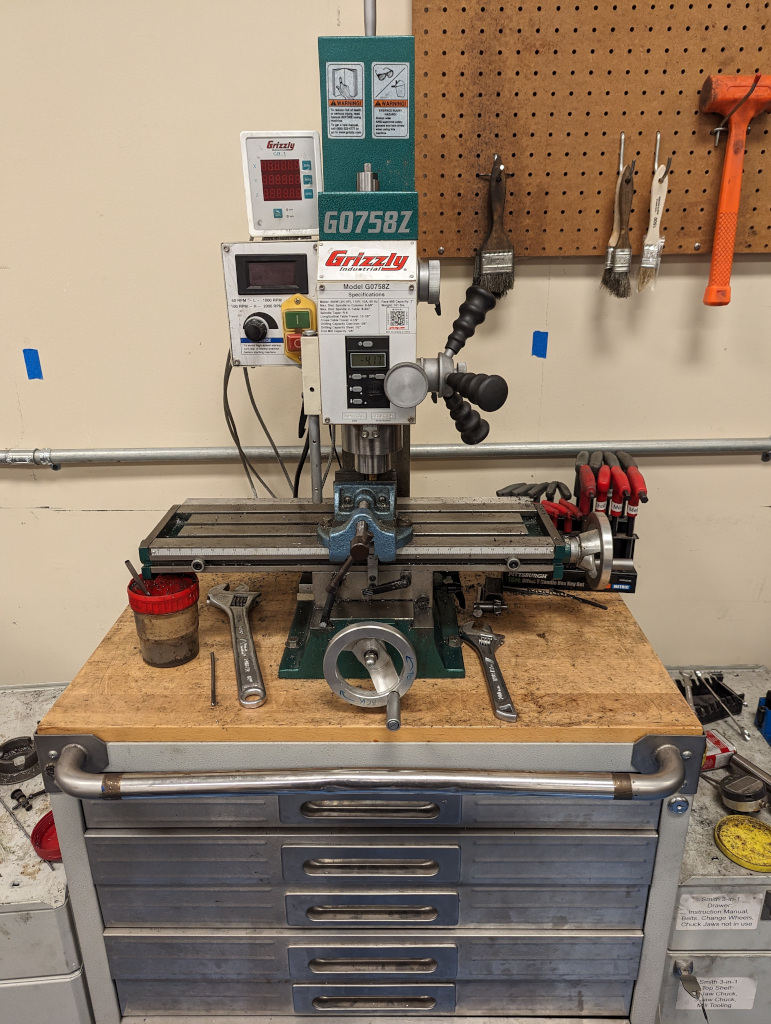 This is a 6x20 tabletop mill. Collets and tooling for the mill live in the drawers underneath. Please keep the tooling together with the mill and put tools back where you got them when you're done.
Bandsaw: Grizzly G4030 6.5"x10" Horizontal Bandsaw
Welder: Century 160 Mig Wire Feed Welder
It's set up with 0.030" ER70S wire and CO2/Ar gas.
Grinding Bench
Cold Working
Iron worker, ring roller, brakes