Info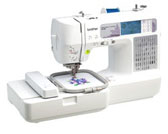 Our sewing machine is a Brother SE400 Combination Computerized Sewing and 4×4 Embroidery Machine.
It has a embroidery extension for making letters, logos, etc. by uploading pictures through its software via USB cable.
The PDF manual can be found on the desktop computer next to the laser cutter and sewing area. It also has all the software needed to change images to embroidery patterns as well. You can also pull up the PDF manual here.
Tool Masters
These members have the most knowledge and use of this tool. Please make sure you check out with one of them before using this tool for the first time.
- Josh Pritt
- Tony Bellomo