How to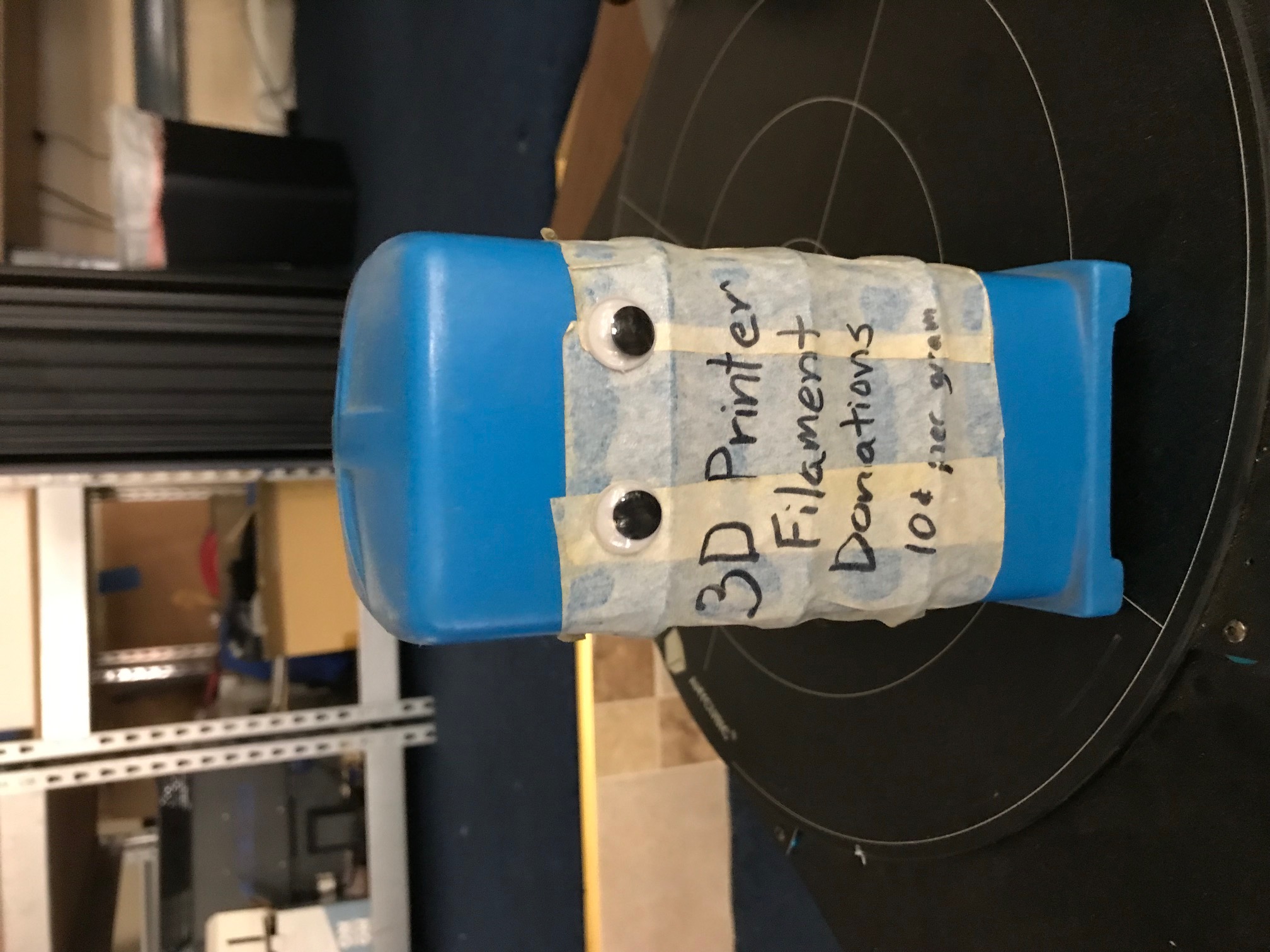 This section describes how to go from gcode to finished product.
Send your gcode to the printer. There are (at least) two ways to do this:


a. Using the microUSB card (on the Creality printers), copy your gcode to the card




b. Login to the printer via the IP address on each printer (IP address and login to be added)

Weigh your completed print using the scale (insert photo).

Pay via the blue box or Paypal
Tools
Filament Printers
Fused filament fabrication (FFF), also known under the trademarked term fused deposition modeling (FDM), derives from automatic polymeric foil hot air welding system, hot-melt gluing and automatic gasket deposition. Such principle has been further developed by S. Scott Crump in the late 1980s and was commercialized in 1990 by Stratasys. After the patent on this technology expired, a large open-source development community developed and both commercial and DIY variants utilizing this type of 3D printer appeared known as the RepRap project (for self-replicating rapid prototyper). As a result, the price of this technology has dropped by two orders of magnitude since its creation, and it has become the most common form of 3D printing.
In fused deposition modeling, the model or part is produced by extruding small beads or streams of material which harden immediately to form layers. A filament of thermoplastic or other low melting point material or mixture is fed into an extrusion nozzle head (3D printer extruder), where the filament is heated to its melting temperature and extruded onto a build table.
Creality CR-10
Creality Ender-5 Pro
Creality Ender-5 Plus
Makerbot Replicator 2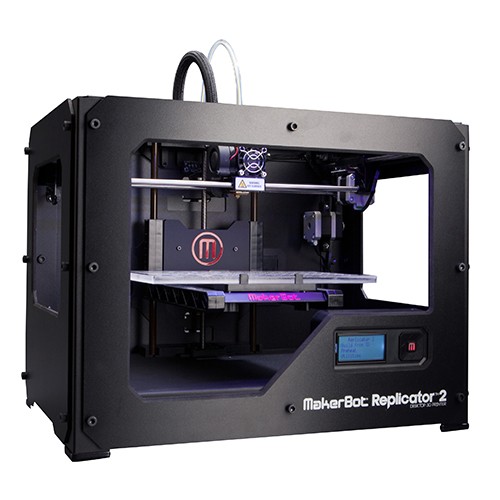 Specifications
Print Technology: Fused Filament Fabrication
Material: PLA
Build Volume: 11.2 L x 6.0 W x 6.1 H in [28.5 x 15.3 x 15.5 cm]
Layer Resolution

High 100 microns [0.0039 in]
Medium 270 microns [0.0106 in]
Low 340 microns [0.0133 in]

Filament Diameter: 1.75 mm [0.069 in]
Nozzle Diameter: 0.4 mm [0.015 in]
Manual
Status
Fully Operational
RepRap Wilson TS (aka Super Jojo)
Specifications
Print Technology: Fused Filament Fabrication
Material: PLA, PETG, ABS
Software: Simplify 3D
Wiki
Status
Fully Operational
DeltaMaker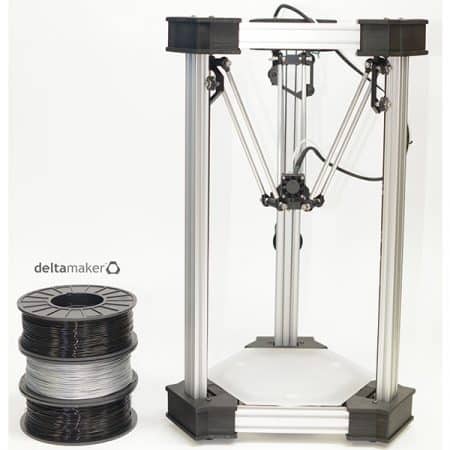 Specifications
Print Technology: Fused Filament Fabrication
Material: PLA
Build Volume: 240 mm (9.4 inch) wide hexagon x 260 mm (10.2 inch) high – 780 cubic inches
Layer Resolution

High 100 microns [0.004 in]
Medium 150 microns [0.006 in]
Low 200 microns [0.008 in]

Filament Diameter: 1.75 mm [0.069 in]
Nozzle Diameter: 0.35 mm [0.014 in]
Extrusion Speed: up to 150 mm/s
Non­Extrusion Movement: up to 300 mm/s
Wiki
Status
Fully Operational
MonoPrice Select Mini 3D Printer v2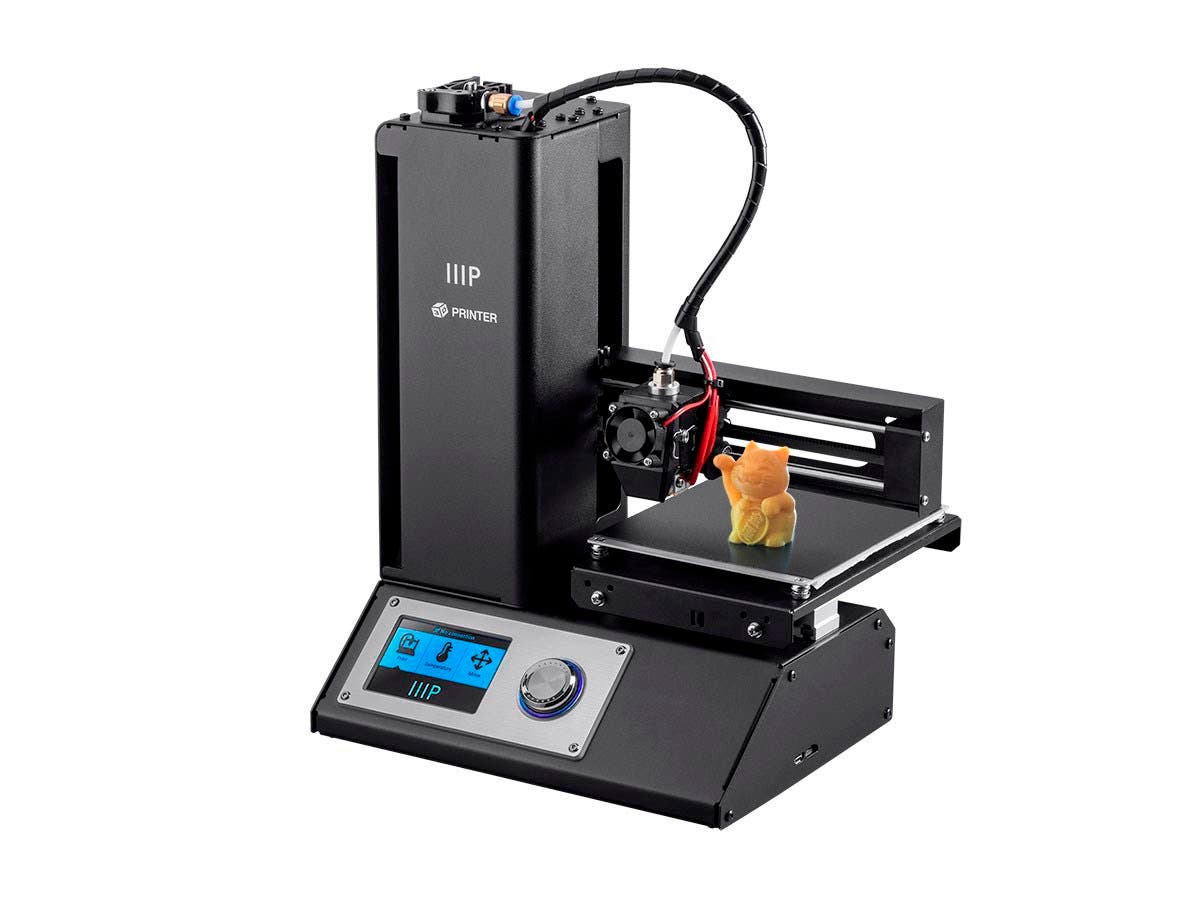 Specifications
Print Technology: Fused Filament Fabrication
Material: PLA
Build Volume: 4.72 in x 4.72 in x 4.72 in (120 x 120 x 120 mm)
Layer Resolution

High Quality: 0.087mm
Normal: 0.131mm
Fast: 0.2mm

Filament Diameter: 1.75 mm [0.069 in]
Nozzle Diameter: 0.4 mm [0.015 in]
Max Printing Speed: 55mm/sec
Manual
Status
Fully Operational
MonoPrice Select Mini 3D Printer v2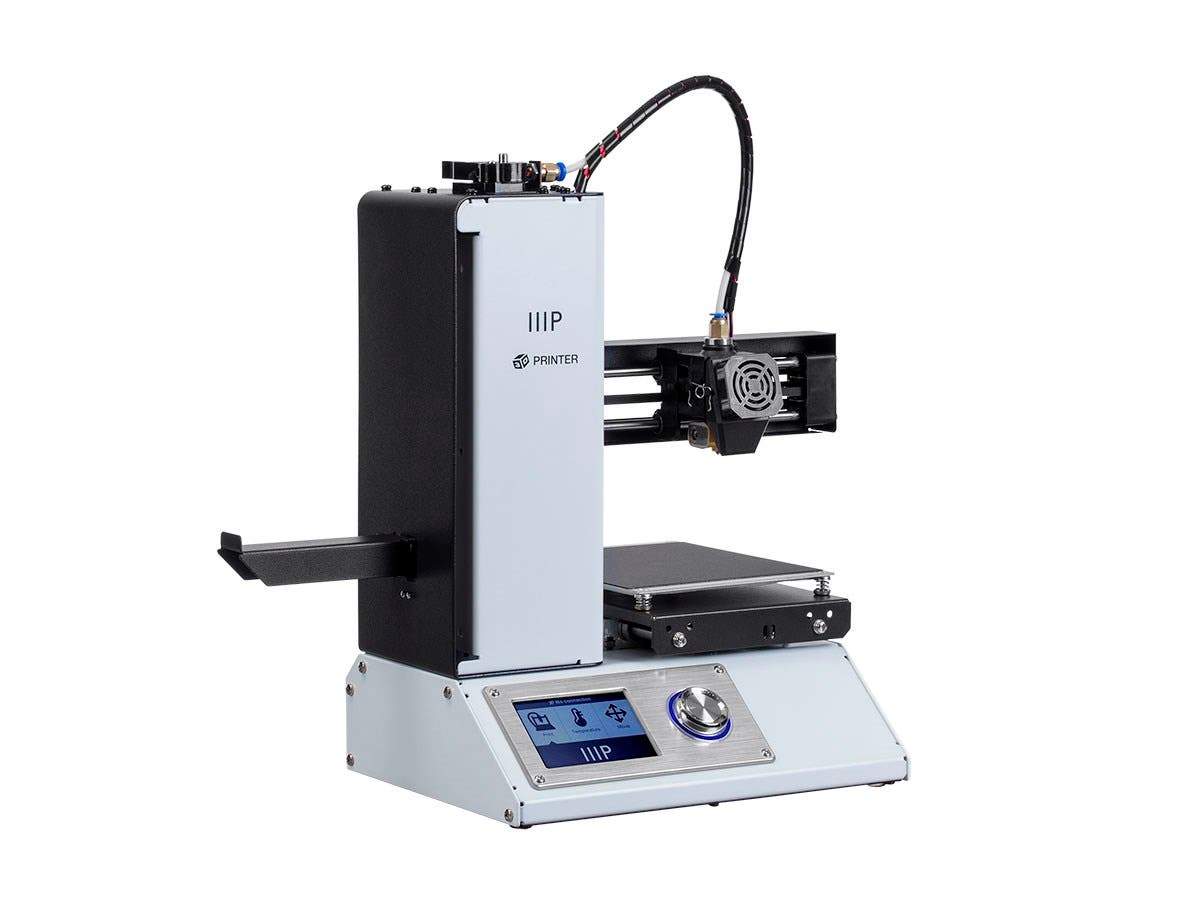 Specifications
Print Technology: Fused Filament Fabrication
Material: PLA
Build Volume: 4.72 in x 4.72 in x 4.72 in (120 x 120 x 120 mm)
Layer Resolution

High Quality: 0.087mm
Normal: 0.131mm
Fast: 0.2mm

Filament Diameter: 1.75 mm [0.069 in]
Nozzle Diameter: 0.4 mm [0.015 in]
Max Printing Speed: 55mm/sec
Manual
Status
Inactive
The unit needs a new power supply. One is on order and should be available soon. (2021-02-23)
Toolmasters
(the members to contact for help or to get checked out for using them):
Josh Pritt
Tony Bellomo
Mike Batton
Jack Simons
John Gay
Chin Gian
Printers No Longer in Service
Printrbot Jr