Info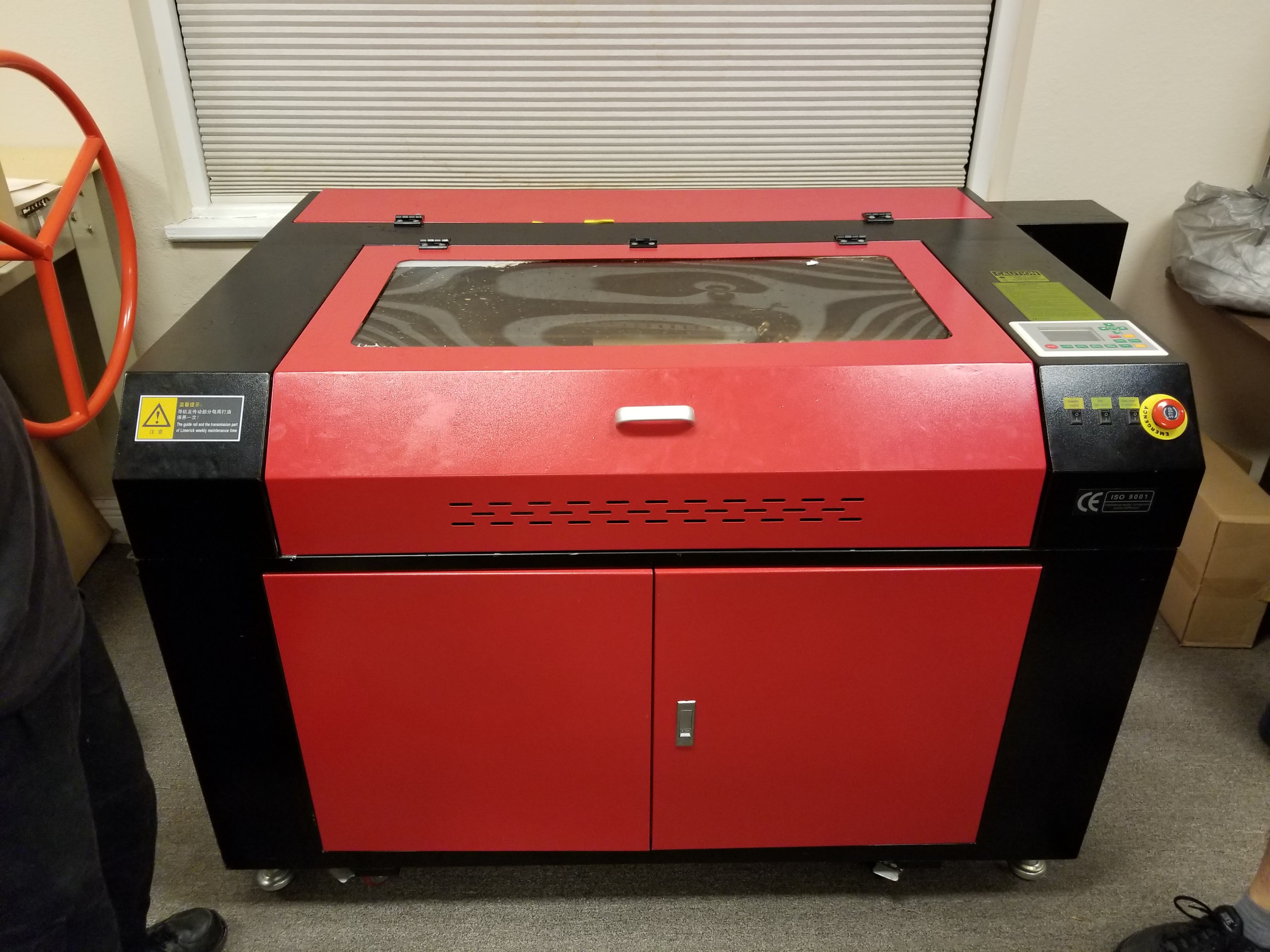 Our new laser cutter is a Ruida 644XG based, 100 Watt CO2 laser and a 880x650 mm (34"x25") cutting bed. It is sometimes refered to by its nickname, Laser Rick.
Video of the laser engraving a pattern and cutting it out of 1/4" plywood: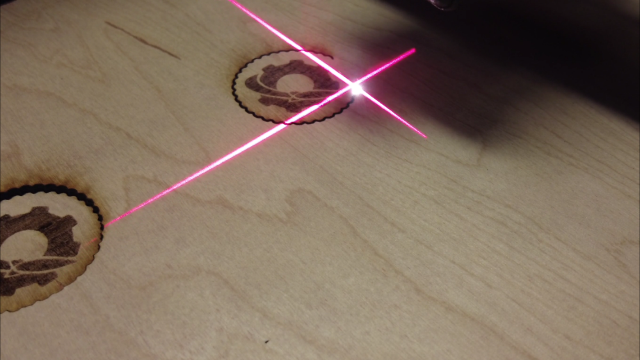 Status
Oct 9, 2019
New final lens installed to replace old lens. The old lens actually fell into pieces when it came out! THE CUTTING POWER IS NOW VERY VERY GOOD. Any power settings you were using before needs to be much lower now. To cut through a piece of wood used to take 80% power and multiple passes. Now it only takes 30% and a single pass! Please do not operate above 60% power unless actually needed. We will need to update the power and speed settings in the table below so until then use lower power settings that you think it should need.
Sep 9, 2019
New laser tube installed. Old one got too hot at the negative wire connection and caused the inside tube to crack and shatter. We also added a new industrial chiller to cool the water instead of a five gallon bucket. The chiller should turn on as soon as you turn on the laser master power. Make sure to wait 2 or 3 minutes for the water to really get flowing through the whole tube before firing the laser.
Oct 18, 2018
After replacing fuse and fuse holder with 3D printed version at the the main power input it is working again.
Oct 1, 2018
Main power switch no longer presses the switch inside when rotated. Small pieces of acrylic shoved into switch and zip tied to keep main power switch pressed. Operate the power on/off now with the big red emergency cut off button/switch.
June 2, 2018
Still setting up and creating final version of step by step instructions.
Still needs duct work ran correctly in the ceiling.
Tool Masters
These members have the most knowledge and use of the laser cutter. Please make sure you check out with one of them before using the laser for the first time.
Control Software
There are two different laser control programs available on the laptop connected to the laser cutter. The first is RD Works, which was supplied by the manufacturer. The second is LightBurn, which is an aftermarket program. Only one should be running at a time or communication issues may arise.
RD Works
LightBurn
The documentation for LightBurn is available online or as a PDF.
Video tutorials are also available:
Lesson #1 - First Time User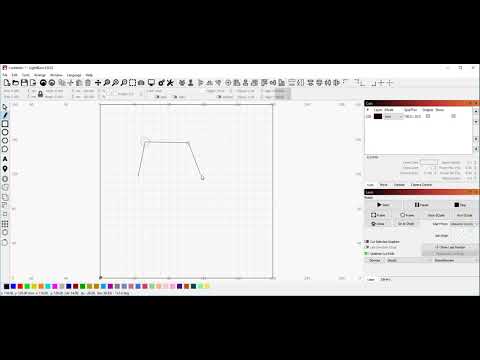 Lesson #2 - LightBurn UI Walkthrough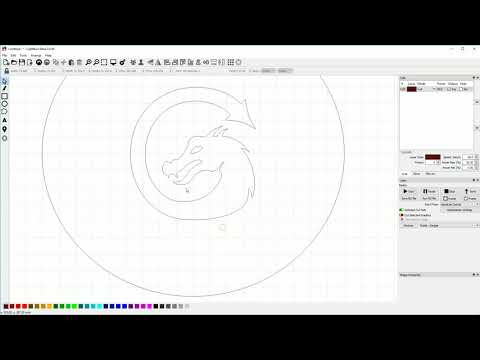 LightBurn demo - A project from start to finish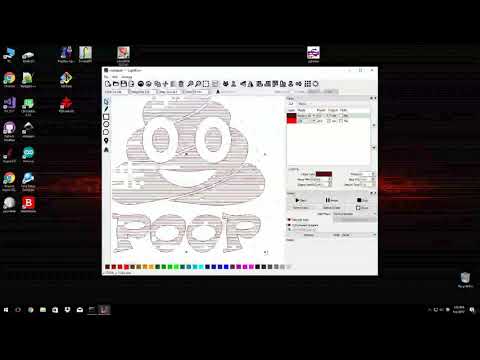 Other Software

Inkscape can be used to create vector drawings for use in the cutter.

GIMP Can be used to optimize pixel images for raster cutting applications.

MakerCase Can be used to create laser cut boxes of whatever size you want!
Materials and recommended power/speed/reps settings
Approved Materials
Acrylic plastic
Cardboard, card stock, cover stockm and paper of all kinds
Plain wood
Interior Plywood
Forbidden Materials
ABS
Exterior Plywood
HDPE
PVC or other vinyls
Polycarbonate plastic (i.e. Lexan)
Polystyrene
Any metal, including plated or foil coated materials
If the material is not on the list, consult one of the Tool Masters before using the laser cutter.
Power and Speed Settings
Note that there can be some variation in cutting media and in laser performance.
It is recommended that you make a test cut on a piece of waste material to verify these settings and adjust accordingly before beginning your main project.
| Material | Thickness | Etch / Cut | Speed (mm/s) | Power (%) | Passes |
| --- | --- | --- | --- | --- | --- |
| Acrylic | .080" | Etch | 100 | 30 | 1 |
| | | | | | |
| Acrylic | 1/8" | Cut | 10 | 20 | 1 |
| Acrylic | 1/4" | Cut | 5 | 30 | 2 |
| Acrylic | 11mm | Cut | 5 | 35 | 2 |
| | | | | | |
| Card Stock (65lb) | NA | Cut | 50 | 15 | 1 |
| | | | | | |
| Cork | 1/4" | Etch | 300 | 15 | 1 |
| | | | | | |
| Fabric, Light Cotton | NA | Cut | 50 | 15 | 1 |
| | | | | | |
| Plywood | 1/8" | Etch | 300 | 30 | 1 |
| Plywood | 1/4" | Etch | 250 | 30 | 1 |
| | | | | | |
| Plywood | 1/8" | Cut | 5 | 20 | 1 |
| Plywood | 1/4" | Cut | 5 | 25 | 1 |
| Plywood | 1/2" | Cut | 5 | 40 | 2 |
| | | | | | |
| Posterboard | NA | Cut | 50 | 15 | 1 |
| | | | | | |
| Wood, Poplar | 1/4" | Etch | 150 | 30 | 1 |
| | | | | | |
| Wood, Poplar | 1/4" | Cut | 5 | 30 | 1 |
| Wood, Poplar | 1/2" | Cut | 5 | 40 | 1 |
| | | | | | |
| Wood Veneer | 1/16" | Cut | 15 | 16 | 1 |