Info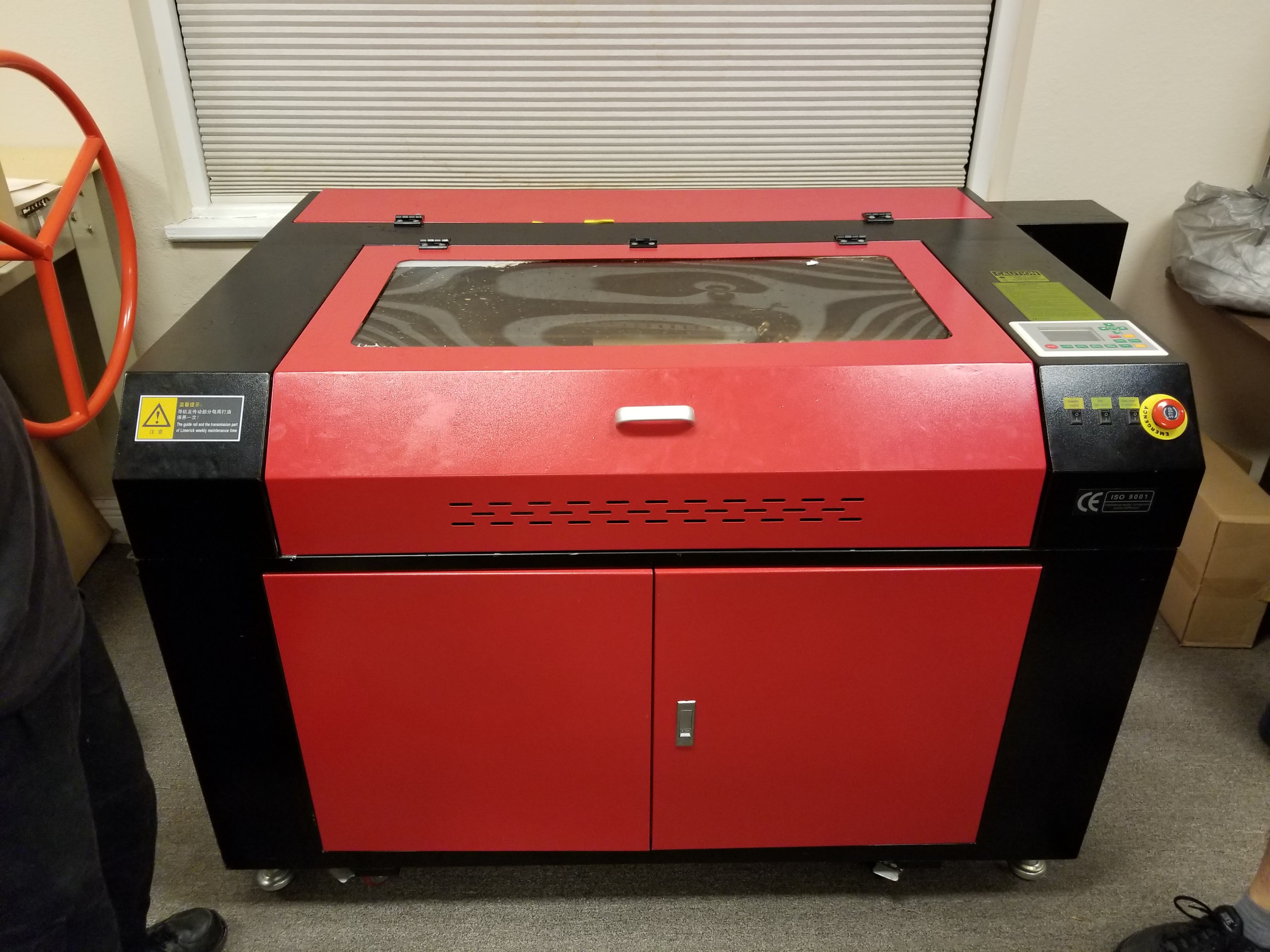 Laser Rick is the name of our new laser cutter. 700x500 mm, 27.6"x19.7", 100 Watt, CO2, water cooled, serious hobby laser engraver.
100 Watt Laser Cutter
You can use Box Designer to create laser cuttable notched boxes of whatever size you want!
Status
Oct 18, 2018
After replacing fuse and fuse holder with 3D printed version at the the main power input it is working again.
Oct 1, 2018
Main power switch no longer presses the switch inside when rotated. Small pieces of acrylic shoved into switch and zip tied to keep main power switch pressed. Operate the power on/off now with the big red emergency cut off button/switch.
June 2, 2018
Still setting up and creating final version of step by step instructions.
Still needs duct work ran correctly in the ceiling.
Tool Masters
These members have the most knowledge and use of the laser cutter. Please make sure you check out with one of them before using the laser for the first time.
- Stephen Brown
- Josh Pritt
- Tony Bellomo
- Mike Batton
- Trevor Schmitt
Documentation
Materials and recommended power/speed/reps settings
Here's a link to the power/speed settings for the smaller laser cutter at Makers Local 256:
Makers Local 256 40 Watt Laser Cutter setting suggestions
THIS TABLE NEEDS TO BE UPDATED FOR THE NEW LASER.
THIS IS CURRENTLY FOR THE OLD 40 WATT LASER.
MARK UPDATED NUMBERS WITH MM/S AND % SIGN.
| Material | Thickness | Etch / Cut | Speed | Power | Passes |
| --- | --- | --- | --- | --- | --- |
| Hobby Plywood | 1/4" | Etch | 100 | 10 | 1 |
| Hobby Plywood | 1/4" | Cut | 25 | 100 | 9 |
| Hobby Plywood | 1/8" | Etch | 100 | 40 | 1 |
| Hobby Plywood | 1/8" | Cut | 35 | 100 | 5 |
| Hobby Plywood | 3/16" | Cut | 50 | 100 | 6 |
| Cork (wine) | NA | Etch | 100 | 9 | 1 |
| 110Lb Card Stock | NA | Cut | 100 | 45 | 1 |
| Corrugated Cardboard | 1/8" | Etch | 100 | 50 | 1 |
| Corrugated Cardboard | 1/8" | Cut | 70 | 100 | 2 |
| Engraving Material | 1/8" | Etch | 100 | 80 | Raster |
| Engraving Material | 1/8" | Cut | 100 | 100 | 3 |
| Acrylic | 1/8" | Etch | 200 mm/s | 20% | 1 |
| Acrylic | 1/8" | Cut | 20 mm/s | 80% | 1 |
| Polyurethane Fabric | 1/8" | Cut | 50 | 100 | 1 |
| Laser Rubber No Odor | 0.02" | Etch | 8 | 100 | Raster (twice) |
| Teak Wood | 3/8" | Etch | 50 | 100 | 5 |
| Teak Wood | 3/8" | Cut | 100 | 100 | 20 (lower focus then 20 again) |
| Maple Wood | 3/4" | Etch | 50 | 100 | 5 |
| Maple Wood | 3/4" | Cut | 100 | 100 | 20 |
| Posterboard | paper | Cut | 100 mm/s | 80% | 1 |